Nomadic Trails in Mongolian Gobi - Desert
Date availability | from 1 May 2017 to 31 October 2017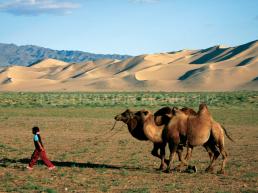 Mongolian Gobi is one of the most attractive destinations for the adventure seekers. You will be surprised by a stunning National Park Gurvan Saikhan. During the trip you will visit extraordinary sand dune Khongor which extends about 180 km, Yol valley the greatest and beautiful gorge with eternal ice and rare animals such as Argali sheep, Ibex, and vulture. Also it will be exciting to visit various Buddhist monasteries which can be the representative of the Mongolian religion, culture and arts. This tour also includes majestic Khogno Khan Mountain and Karakorum- the ancient capital of Great Mongolian State.
Activities:





Itinerary
Day 1 | Ulaanbaatar
Our crew will greet you at the Chinggis Khaan International Airport for transfer to hotel. After freshening up from your trip, we will spend the day touring some of the capital's most noteworthy sites starting out at the capital of Mongolian Buddhism, Gandan Monastery. The monastery was one of the few preserved through the 20th century and features a spectacular 25 meter, 20 ton statue of the Megjjd Janraysig Buddha. From here, we will go to the Natural History Museum which holds the skeletons of several of the unique dinosaurs discovered in Mongolia. We will explore the Sukhbaatar Squar, the heart of Ulaanbaatar. Afterwards we'll visit Zaisan Hill, which offers great views of the city. Overnight in hotel. (L, D)
Day 2 | South Gobi
Flight to the South Gobi Desert, a dramatic landscape of mountains, rock and sand, dotted with grazing camels and herders' gers. We'll visit the remarkable "Vulture's Gorge" within the Gobi Gurvan Saikhan National Park, an exotic setting of green meadows and dense glaciers situated deep within the arid Gobi. If we're lucky, we might see some of this area's abundant wildlife, including the rare argali sheep and mountain goat. Overnight in ger camp. (B, L, D)
Day 3 | Bayanzag (Flaming Cliffs) / Ongi Monastery
One of Mongolia's more noteworthy sites is the ancient rock formations at Bayanzag, made famous by American scientist Roy Chapman Andrews's discovery here of complete dinosaur skeletons and eggs in the 1920s. From here we travel to the site of Ongi Monastery - formerly home to a community of more than 500 Buddhist monks - whose ruined structures testify to the devastating religious purges of the 1930s. On the way to Ongi Monastery you will have the opportunity to visit a local camelbreeding family and learn about their unique nomadic lifestyle. Overnight in ger camp. (B, L, D)
Day 4 | Karakorum (Khogno Khan Mountain)
Our next stop is Karakorum, the former capital of the world's greatest land empire, established by Chinggis Khaan. Here we will tour the fascinating Erdene Zuu Buddhist Monastery, a religious complex. It was first established on the ruins of Karakorum in 1586 by Abtai Sain Khan the grandfather of Saint Zanabazar, as the first architectural example of a new style of Buddhism he founded called "Yellow" Buddhism. Continuing on through a beautiful landscape of high mountains, grassy steppe and sand dunes, we arrive at majestic Khogno Khaan Mountain. The panoramic views from the mountain will give an unforgettable impression of Mongolia's size, extending out for 200 kilometres on a clear day. Overnight in ger camp. (B, L, D)
Day 5 | Ulaanbaatar
The journey concludes back in Ulaanbaatar, with the remainder of the day free for rest or shopping. In the evening, you will attend a performance of traditional dancing and khoomii (Mongolian throat singing). Overnight in hotel (B, L, D)
Day 6 | Departure
Our adventure together ends with your transfer back to Airport for your departure. (B)
Other Information
Price Exclude
International flights
Single supplement
Insurance
Drinks in restaurant
Supplementary services
Personal items
Tips
Price
Hotel
Price /per person/
2 pax
3-5 pax
6-9 pax
10 more pax
3 star
$0
$0
$0
$0
4 star
$0
$0
$0
$0
Nomads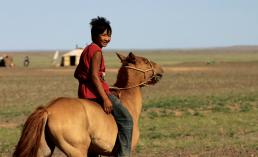 Ethnographers divide Mongolia's population according to their ethnicity, but all Mongolians have one thing in common: they are nomads, or nomads at heart, even if they are urbanized. About half of the 2.3 million people live in gers, and 390.000 herdsman look after nearly 30 million livestock. They are truly nomadic, moving their gers and animals several times a year, constantly searching for better feed, water and weather. The life of a nomad, and therefore Mongolia, is inextricably linked to the environment and animals. Nomads learn to ride as soon as they can walk; they spend about half their time looking for stray animals (there are almost no fences in Mongolia), carrying a type of lasso pole called an urga. While you are traveling around the countryside for a week or two in summer, you may think the simple nomadic lifestyle is ideal, but the long winters are desperately harsh, the food is unchanging, and looking after animals, preparing food and finding water is very hard work.