My journeys in the land of the Reindeer Herders; Tsaatans People
Date availability | from 1 May 2017 to 31 October 2017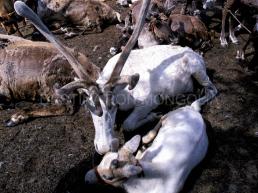 This journey takes you to the splendid fresh water lake Khuvsgul, amazing Khorgo National Park, Tsenkher hot spring and many more attractive places. This area is famous for its ethnic group Tsaatan who are reindeer herders who have their own unique tradition and way of life. You will visit local reindeer herders and get familiar with their lifestyle. The beauty of the wild nature, deep blue lake, friendly and hospitable nomads are the main things to see in this tour. This tour will be one of the precious memories of your life.
Activities:







Itinerary
Day 1 | Ulaanbaatar
We will greet you at airport and private transfer to the 4 star hotel, conveniently situated in downtown Ulaanbaatar. After short break we visit to the Sukhbaatar square, the Zaisan Hill, the National History Museum that presents history of Mongolia and Chinggis Khaan's Great Empire. Overnight in hotel. (L, D)
Day 2 | Murun / Lake Khuvsgul
We'll start our trip with a flight to Murun, the capital of Mongolia's northern-most province of Khuvsgul. From there, we take 4x4 vehicles to Lake Khuvsgul, situated in a pristine alpine setting of forests, mountains and meadows. We'll spend the night in a Mongol ger - the traditional, felt-covered dwelling of the Mongolian people, heated with a wood stove and furnished with beautifully-decorated wooden-frame beds, providing an authentic and memorable taste of Mongolian culture. Overnight in ger camp. (B, L, D)
Day 3 | Lake Khuvsgul
Lake Khuvsgul, one of the largest and deepest lakes in the world, with 2% of the world's freshwater resources is our destination. Situated amongst breathtaking alpine scenery, we'll spend the day enjoying a variety of activities, ranging from hiking and horseback riding to fishing and a visiting a family of nomadic reindeer herders. Overnight in ger camp. (B, L, D)
Day 4 | Khangai Mountains
We'll move south to the Jargalan hot springs, crossing deep river basins and high mountain passes, and visiting nomadic families along the way. The transit will take most of the day, but there is enough time to enjoy the hot springs. Overnight in ger camp. (B, L, D)
Day 5 | Lake Terkhiin Tsagaan / Khorgo National Park
We continue onwards to the great volcanic crater of Khorgo, which created a vast field of basalt formations and the 16 km long Terkhiin Tsagaan Lake, situated 2200 metres above sea level, with a depth of 200 metres. A hike up to the summit of the volcanic crater is rewarded with a breathtaking view of the surrounding landscape, including the nearby lake. There are excellent opportunities during the rest of the day for bird-watching, hiking, horseback riding or fishing. Overnight in ger camp. (B, L, D)
Day 6 | Tsenkher Hot Springs
We'll then travel further west through beautifully forested valleys and meadows, stopping by exceptional spots such as Zuun Mod - the "Hundred Tree" - a sacred tree hidden by thick layers of blue scarves left by worshippers, and the stunning Chuluut River Gorge. Along the way we will also visit the museum in Tsetserleg, located in the former Zayiin Khuree Monastery, and examine the fascinating displays of authentic historical and religious objects. After crossing through beautiful mountain scenery and, depending on the month, fields of wildflowers, we'll arrive at the Tsenkher hot springs where the water flows out of the ground at a sizzling 890C. Overnight in ger camp. (B, L, D)
Day 7 | Karakorum / Khogno Khan Mountain
Today our trail leads to the west for visit to Karakorum city - ancient capital city of Mongol Empire from where Great Chinggis Khaan conquered and ruled the world and visit to Erdene Zuu monastery, ancient monastery built by Abtai Sain Khaan in 1586, will leave an unforgettable cultural impression with white 108 stupas, walls and temples by trekking. Continuing on through a beautiful landscape of high mountains, grassy steppe and sand dunes, we arrive at majestic Khogno Khan Mountain. The panoramic views from the mountain will give an unforgettable impression of Mongolia's size, extending out for 200 kilometres on a clear day. Overnight in ger camp. (B, L, D)
Day 8: Ulaanbaatar
The journey concludes in Ulaanbaatar, with the remainder of the day free for rest or shopping. After dinner, we'll attend a performance of an ensemble performance of Mongolian folk art. Overnight in hotel. (B, L, D)
Day 9 | Departure
Our adventure together ends with your transfer back to the International Airport for your departure. (B)
Other Information
Price Exclude
International flights
Single supplement
Insurance
Drinks in restaurant
Supplementary services
Personal items
Tips
Price
Hotel
Price /per person/
2 pax
3-5 pax
6-9 pax
10 more pax
3 star
$0
$0
$0
$0
4 star
$0
$0
$0
$0
Khuvsgul Lake
Known as "The Dark Blue Pearl", Lake Khovsgol is Mongolia's largest and deepest lake. Located in the northernmost province, it is the largest tributary stream of Lake Baikal in Russia. Lake Khuvsgul is 136 km long, 36 km wide, 262 metres deep and is located at an altitude of 1645m above sea level and is frozen from January until April or May. It's the second largest fresh water lake in Central Asia. It's inhabited by nine species of fish including the Siberian grayling and lenok. Fishing and sport fishing are becoming popular in the lake area. Taiga Fauna and Flora, Tsaatan, practicing reindeer breeding are the main attractions for tourist.
A ferryboat operates between Khatgal and Khankh, two towns on the southern and northern shores of the lake that is within the boundaries of the Khovsgol National Park. Different ethnic groups live in the area: Khalha, Darhad, Buryat. Tsaatans are reindeer herders.