Monasteries of Mongolia - Spiritual journey
Date availability | from 1 May 2017 to 31 October 2017
By choosing this tour you will be concentrated more on Buddhism and intrigued to the great monasteries around Mongolia. From 16th century Tibetian Buddhism was strengthening and spread rapidly through the country. Over 700 Buddhist monasteries were built in Mongolia. But during the Stalinist purge in 1930s the monasteries were destroyed and many monks were killed. After the democratic revolution in 1990, many monasteries are reconstructed and displaying its amazing object d'art and its historical backgrounds.
Activities:




Itinerary
Day 1 | Ulaanbaatar city
Upon your arrival, the Destination Mongolia (SND Co.,Ltd) crew will meet you for transfer to your centrally located 4-star hotel and after a short rest (about an hour), we will continue to explore Ulaanbaatar city, visiting Sukhbaatar Square, Zaisan Hill - a monument for Soldiers of WWII, and the Natural History Museum which contains complete skeletons of ancient dinosaurs and an entire display of wildlife found in Mongolia. Overnight in hotel. (L, D)
Day 2 | Baga Gazriin Chuluu
In the morning we will driving to countryside. Baga Gazriin Chuluu is huge rock extension area where during Communist repressions some monks escaped in remotest valleys of this place. Overnight in ger camp. (B, L, D)
Day 3 | Ongi monastery ruins
We continue ride to Ongi monastery ruins, destroyed during 1930s repression were at its zenith more than 500 monks practiced in certain temples. Overnight in ger camp. (B, L, D)
Day 4/5 | Orkhon waterfall
The Orkhon valley is very rich on historical sites; rock monuments and gravings of ancient Turkic state and especially magnificent on waterfall and volcanic magma flows. Overnight in ger camp. (B, L, D)
Day 6 | Tuvkhun monastery
Saint Zanabazar had been built this monastery in 1651 for god and bibles creation and specially meditation of public where it has been situated on top of larch forested mountain beyond 2000 meters above sea level and we have for a while trekking up to mountain on tiny path of monastery. It is ideal area for silent environment on yoga lessons. Overnight in ger camp. (B, L, D)
Day 7 | Shankhiin Khiid Monastery and Erdene Zuu Monastery
The monastery is popular that it was one of the biggest monasteries in Mongolia where it is created at times of Yellow Buddhism development stage and period with accumulation of several numbers of monks and believers. Afterwards, we will drive to the Erdene Zuu monastery - biggest monastery with 108 stupas, which built in 1586 on the burial tomb of Karakorum city - ancient capital city of Great Mongol Empire, which built in 12th century. Overnight in ger camp. (B, L, D)
Day 8/9 | Khogno Khaan Mountain
This natural spot is famous for its mixture of everything; ranging from the high rocky Khogno Khan Mountain to a small lake coexisting with the legendary Gobi sand dunes. The forest and steppe pictures a gorgeous landscape where local nomadic families live by breeding horses and sheep. Visit the old and small Ovgon monastery where there will be good riding, trekking or horseback riding as an option. Overnight in ger camp. (B, L, D)
Day 10 | Terelj National Park via Ulaanbaatar city
Driving back to the capital city on mainly paved roads brings us directly to the Terelj National Park - most exciting place with the extraordinary formation of rocks and stones; Turtle rock, men reading book. A highlight of this spot is visit to Aryaval meditation monastery for soul healing. Overnight in ger camp. (B, L, D)
Day 11 | Amarbayasgalant monastery
For memory of Saint Zanabazar the Manchurian King sponsored on construction of marbayasgalant monastery in 1727 where it is only construction built purely by Mongolian design. Overnight in ger camp. (B, L, D)
Day 12 | Undur Dov
We will drive for long journey wondering around local families and settlements on the way. Overnight ger camp. (B, L, D)
Day 13 | Manzshir monastery
The Manzshir - symbolized by monks as intellectual and meditation center, built in 1733, located in gorgeous mountainous area of Bogd Khaan that preserved in 1778 under State Protection. Drive back to city for transfer to the hotel. Overnight in hotel. (B, L, D)
Day 14 | Departure
After breakfast we will transfer you to the airport for your departure.
Other Information
Price Exclude
International flights
Single supplement
Insurance
Drinks in restaurant
Supplementary services
Personal items
Tips
Price
Hotel
Price /per person/
2 pax
3-5 pax
6-9 pax
10 more pax
3 star
$0
$0
$0
$0
4 star
$0
$0
$0
$0
Religion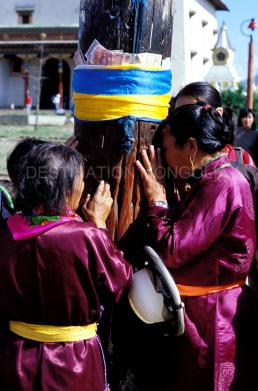 Mongolia's religious roots are bound up in Shamanist. Shamanist was the major religion during both the ancient Mongol states and the Mongol Empire until Tibetan Buddhism (also called Vajrayana Buddhism) gained more popularity after it was introduced in 16th century. Tibet's Dalai Lama is the religion's spiritual leader, and is highly respected in Mongolia.
Buddhism was introduced to Mongolia from Tibet by Khublai Khan during the late 16th century. Khublai Khan invited an eminent Tibetan lama, Pagba, to be the empire's religious representative. From the late 14th century onwards hundreds of Buddhist temples were rapidly built across Mongolia. Thousands of Mongolian males vowed to lives as lama - at one point almost one seventh of the male population had taken robes. Until the beginning of the twentieth century Buddhism developed and spread across the country, playing an important role in both religious and intellectual spheres of life.