Great Journey in the Distant Land of the Kazakhs
Date availability | from 1 May 2017 to 31 October 2017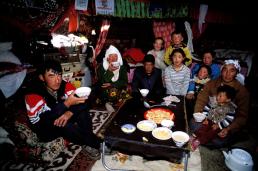 This tour will guide you to the western Mongolia which is famous for being home for a dozen ethnic group of Mongolia especially Kazakhs and this is the least traveled area of Mongolia. The nature is extremely beautiful with snowcapped high Altai Mountain Range, pristine lakes and becks. You will be content with discovering Khoid Tsenkher Cave rock painting, unique culture and tradition of hospitable Kazakh people. The whole trip will be full with excitement and joy because of the splendid beauty of the magnificent western part of Mongolia.
Activities:






Itinerary
Day 1 | Ulaanbaatar
Upon your arrival our crew will meet you at train station for transfer to centrally and comfortably located hotel by coach bus. Afterwards, we have exploration of Ulaanbaatar city will bring such diverse city scenic and social life routine where in downtown there are numerous highlights; Sukhbaatar Square - heart of city with Sukhbaatar leader statue built in 1956 and covered by red marble and surrounded by Parliament house, Opera house, City Mayor etc. Zaisan Hill - a huge solid monument for WWII Soldiers. Overnight in hotel. (B, L, D)
Day 2 | Bayan Olgii
After breakfast fly to the westernmost province of Bayan-Olgii, located in the heart of Central Asia's towering Altai Mountains. Kazakhs make up 90 percent of the local population, while ethnic Tuvans, Durvuds and Urianhai constitute the remaining ten percent. Overnight in tents. (B, L, D)
Day 3 | Altai Tavan Bogd Mountain
Visit the spectacular Tavan Bogd Mountain, whose permanently snow-capped peak rises a towering 4374 metres above sea level, marking the borders of three countries - Mongolia, China and Russia. Experience stunning views of remote mountain glaciers and the breathtaking scenery of the surrounding Altai Tavan Bogd National Park. Overnight in tents. (B, L, D)
Day 4 | Bayan Olgii
Travel through the Altai Mountains towards the village of Sagsai, where you will meet a Kazakh family and learn about their unique lifestyle - which combines traditional herding with hunting using specially-trained Golden Eagles. Examine the colourful wall-hangings and carpets made by the local Kazakh women, many of which are available for purchase. Return to the capital of Bayan-Olgii. Overnight in a hotel. (B, L, D)
Day 5 | Tolbo Lake and Deluun county
Leave Bayan-Olgii in the early morning, visiting the pristine Tolbo Lake %u2013 situated at 2080 metres above sea level - on the way to Deluun county. Stop by in Deluun and visit the local WWII monument and then continue to the Chigertei River, whose unusually warm water is fed by a nearby hot spring. Set up camp at Chigertei River and spend the night in tents. (B, L, D)
Day 6/7 | Munkh Khairkhan Mountain
Travel through a breathtaking mountain landscapes marked by rugged cliffs, crossing the Tsenkher River to get close-up to the snow-capped Munkh Khairkhan Mountain - Mongolia's second-highest peak, at 4205 metres above sea level. Enjoy one of the best trekking opportunities in this part of the world, offering possibilities for sightings of extremely rare mammal, bird and plant species. Stop by the nearby town of Munkh Khairkhan, which is unique in Mongolia for the mud brick construction of its houses and walls. Overnight in tents. (B, L, D)
Day 8 | Khoid Tsenkher Cave
Explore the famous Khoid Tsenkher Cave, site of the most ancient known rock paintings in Central Asia, thought to have been produced at least 15,000 years ago. You will have the rare chance to examine from close-up these ancient paintings of mammoths, ostriches and other animals that lived in Central Asia prior to the last Ice Age. Overnight in tents. (B, L, D)
Day 9 | Khar Us Lake and Khovd
Drive to the town of Khovd via Khar Us ("Black Water") Lake. A birder's paradise, Khar Us is home to more than 200 different species of migratory waterfowl in the summer months. Overnight in a local hotel. (B, L, D)
Day 10 | Ulaanbaatar
Return flight to Ulaanbaatar. Transfer to the hotel for check-in on arrival. Visit the Bogd Khan's Winter Palace Museum, residence of Mongolia's holy sovereign until 1924, and now a museum displaying exotic Buddhist thangkas and embroideries, statues and objects illustrating the lifestyle of Mongolia's last Emperor. The remainder of the day is free for shopping or independent touring. In the evening, enjoy a performance by traditional dancers and khoomii (throat) singers. Overnight in hotel. (B, L, D)
Day 11 | Departure
After breakfast we will transfer you to the airport for your departure. (B)
Other Information
Price Exclude
International flights
Single supplement
Insurance
Drinks in restaurant
Supplementary services
Personal items
Tips
Price
Hotel
Price /per person/
2 pax
3-5 pax
6-9 pax
10 more pax
3 star
$0
$0
$0
$0
4 star
$0
$0
$0
$0
Kazakh people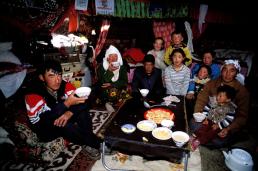 Mongolia's largest ethnic minority is the Kazakh people of the Altai. These ethnics are pastoral, Turkic speaking and traditional Muslim people who live in the far western part of the country. Kazakhs live peacefully keeping their distinct customs and strict traditions. Most importantly they speak in their own language. Kazakhs hunt on the horseback with trained golden eagles on their wrists and greyhounds slung across the saddle. Eagle hunting games and pictures of eagle bearing Kazakhs are common scenery in the west. The hunters catch young female eagles and train them for special hunting. Kazakhs are famous for its hospitality and friendliness like the Mongols.