Sparkling Naadam Festival
Tour date | from 09 July 2017 to 15 July 2017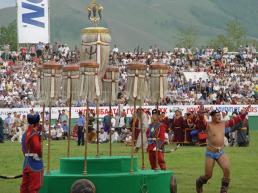 The Naadam Festival is the greatest holiday celebrated each summer and herdsmen, many from distant places, converge on the city to view and take part in the three manly sports and winners are richly rewarded with fame. This fascinating trip will give you many opportunities to experience the excitement of watching hundreds of racing horses with young riders, strong wrestlers and sharp shooters. This trip also includes stunning Gun Galuut Natural Reserve and Terelj National Park where you can enjoy the real beauty of the scenery and observe the wild nature.
Activities:





Itinerary
Day 1 | Ulaanbaatar city
Upon your arrival, Destination Mongolia's crew will meet you at Chinggis Khaan International Airport for your private transfer to hotel. City sightseeing includes the National museum of Mongolian history, Sukhbaatar square and Zaisan monument where you can see the panoramic view of the city. (L, D)
Day 2 | Preparation day of Naadam Festival
As Mongolia gears up for the Naadam Festival, competitions get underway in some of Mongolia's most ancient traditional sports. Take in the Buryat-style archery competition being held near the Central Stadium, followed by the yearling horse race - in which thousands of child jockeys gallop bareback across the steppe to the west of Ulaanbaatar. (B, L, D)
Day 3 | Colourful Naadam Festival
See the fantastic opening ceremony of Naadam festival and watch the first round of Wrestling, and then Archery and Ankle bone shooting competitions. In the afternoon we drive to the horse racing place to enjoy and experience the horse races. (B, L, D)
Day 4 | Gun Galuutai Natural Reserve
After breakfast, a short two-hour drive will take us to the stunning Gun Galuut Natural Reserve, nestled in the Khentii Mountains. Enjoy the rare opportunity to meet with local nomadic families and experience their lives and concerns. (B, L, D)
Day 5 | Terelj National Park
Drive to Terelj National Park, magnificent place for enjoying beauty of the nature. The place is suitable for various activities such as hiking, horse riding and visiting nomad family. There we will visit the Aryabal temple and in the afternoon, drive back to Ulaanbaatar. (B, L, D)
Day 6 | Departure
Your marvellous trip ends with transferring to the airport for your departure. (B)
Other Information
Price Exclude
International flights
Single supplement
Insurance
Drinks in restaurant
Supplementary services
Personal items
Tips
Price
Hotel
Price /per person/
2 pax
3-5 pax
6-9 pax
10 more pax
3 star
$0
$0
$0
$0
4 star
$0
$0
$0
$0
To extend the trip:
Day 1 | Baga Gazriin Chuluu Mountains
Drive to the great Gobi to join Baga Gazriin Chuluu is huge rock extension area. You will enjoy hiking and climbing.
Day 2 | Bayanzag Flaming Cliff
We will visit Bayanzag- biggest saxaul forest and flaming cliffs, where you will find the archeology place, when Roy Andrew Chapman discovered fossilized dinosaurs' skeleton and eggs.
Day 3 | Yol Valley and Khongoryn Els
Hiking discovery the most beautiful oasis of Yol Valley. Afternoon we will drive to Khongoryn els, the largest spectacular sand dunes.
Day 4 | Khongoryn Els sand dunes
The whole day will be spent so interesting with visiting nomad family and get familiar with their way of life and taste some dairy products. Camel ride is also available.
Day 5 | Ruins of the Ongi monastery
You will explore the spot - Ongi Monastery ruins, which is one of the oldest monasteries in desert.
Day 6 | Kharkhorin Town
Today we will visit the Erdene Zuu Monastery, the first Monastery of Mongolia which is built in 1586 on the burial tomb of ancient capital of Great Empire of Chinggis Khaan.
Day 7 | Khogno Khan Natural Reserve
You will spend the time in beautiful Khogno Khan Area which is combination of Rocky Mountain, vast steppe as well as sand dunes. Discovery by walking the Ovgon Monastery.
Day 8 | Ulaanbaatar
Return to Ulaanbaatar in afternoon, enjoy the traditional folk concert.