My journey with nomadic people
Date availability | from 1 May 2017 to 31 October 2017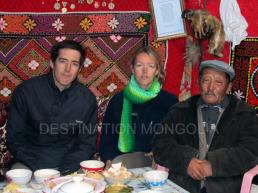 By choosing this tour, you will feel the real nomadic way of life which is the identity of Mongolian culture. This trip includes all the magnificent places to visit such as Gobi, and mountainous areas where you will be surprised with their beauty and the cultural monuments and Buddhist monasteries. The nomads are really independent with raising livestock and communicating with the nature and environment and they move several times a year depending on the weather and food for the animals. You will enjoy the real hospitality of Mongolian people and get closer to the simple but unique lifestyle.
Activities:






Itinerary
Day 1 | Ulaanbaatar city sightseeing
Upon your arrival our crew will meet you at Airport for transfer to hotel. We will visit Sukhbaatar Square, Zaisan Hill - a monument for Soldiers and the Natural History Museum which contains complete skeletons of ancient dinosaurs and an entire display of wildlife found in Mongolia.
Day 2 | Baga Gazryn Chuluu
Today, we will drive to Gobi desert through Baga Gazryn Chuluu. We will have picnic lunch near the sacred Mountain Zorgol Khairkhan. Explore the intriguing rock formations at Baga Gazryn Chuluu, discovering the secret caves and openings in which Buddhist monks hid during the religious persecutions of the 1930s. (B, L, D)
Day 3 | South Gobi
Driving through Gobi desert will give you an exotic view of the desert - with boundless view of horizons, rare species of mammals and plants. On the way you can take photos of wonderful spots, running gazelles, grassing camels, and real live vision of nomads. (B, L, D)
Day 4 | Yol Canyon
Hike through the remarkable Vulture's Gorge, situated amongst the magnificent Gobi Gurvan Saikhan Mountains, discovering an oasis of green meadows and dense glaciers located deep within the arid Gobi. (B, L, D)
Day 5 | Khongoryn Els sand dunes
In the morning start driving to Khongoryn Els sand dunes, which is a marvelous place where sand dunes singing. Also it extends over 180 km. Lunchbox in wild nature. On the way we will have a chance to visit local nomad family to experience their lifestyle. (B, L, D)
Day 6 | Khongoryn Els sand dunes
After breakfast, we will explore the area of Khongoryn Els sand dunes and Sevrei Mountain. Picnic will be provided as lunch. Visit the local nomad family to experience their lifestyle, discover traditional dwelling - ger and taste traditional dairy products; yogurt, camel milk, tea and cheese and have enjoyable camel riding - camel rent is available in local place. (B, L, D)
Day 7 | Bayanzag Flaming Cliffs
Road to Bayanzag for an exploration of the biggest saxaul forest and flaming cliffs, where you will find the archeology place, when Roy Andrew Chapman discovered fossilized dinosaurs skeleton and eggs in 1920s. (B, L, D)
Day 8 | Ruins of Ongi Monastery
We will continue our trip to the site of Ongi Monastery - formerly home to a community of more than 500 Buddhist monks - whose ruined structures testify to the devastating religious purges of the 1930s. (B, L, D)
Day 9 | Orkhon Valley
After breakfast drive to the Orkhon waterfall - whose thundering cascades can be heard from far away. Explore this area of crevices and other volcanic formations, stopping along the way to examine relics and historic sites associated with the ancient Turkic state, whose empire once extended across Central Asia. On the way we can explore landscape of current region and meet local horse breeding family. (B, L, D)
Day 10 | Orkhon Waterfall
Today we will trek in Orkhon Valley to discover the Orkhon waterfall - wonderful place, which falls from 24 meters and originated from volcano where lava flown like river and across the river Orkhon - biggest river in Mongolia, as well. (B, L, D)
Day 11 | Tsenkher Hot Spa
Travel to the Northern side by crossing the long wooden bridge leading to the Tsenkher Hot Springs, where water flows out of the ground at a scalding 86.90C. (B, L, D)
Day 12 | Erdene Zuu Monastery & Karakorum Town
Driving through Orkhon Valley and get to Karakorum county. Afterwards we will visit religious museum that was the first Buddhist monastery "Erdene Zuu" which was built in 1586. (B, L, D)
Day 13 | Khogno Khan Mountain
The unique place Khogno Khan Mountain is famous for its landscape composition, where you can explore sand dunes, steppes, forest and high mountains at the same time. Explore small Ovgon monastery. We have varieties of activities such as horse riding and walking and climbing on the mountain. (B, L, D)
Day 14 | Ulaanbaatar via Khustai National Park
After breakfast, we will drive to Ulaanbaatar. On the way to get there we will visit Khustai National park, where we'll explore Przewalski wild horse and local beauty natural scenery. Arrive in Ulaanbaatar late in the afternoon and check in hotel. (B, L, D)
Day 15 | Departure
After breakfast, we will transfer to the airport or the train station. (B)
Other Information
Price Exclude
International flights
Single supplement
Insurance
Drinks in restaurant
Supplementary services
Personal items
Tips
Price
Hotel
Price /per person/
2 pax
3-5 pax
6-9 pax
10 more pax
3 star
$0
$0
$0
$0
4 star
$0
$0
$0
$0