Horseback riding in Orkhon Valley
Date availability | from 1 May 2017 to 31 October 2017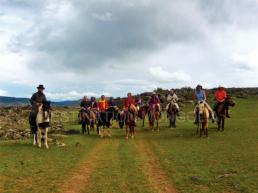 This tour offers you the best destinations and, physical challenge and soft adventure. Riding Mongolian horse will be the fantastic feeling and you will agree that these small and strong horses are the real friend of human being. You will get an exciting feeling when you are galloping through the boundless steppe of Mongolia. During the trip you will have many interesting opportunities to see the rare wild animals, birds and visiting nomad families. Also Orkhon valley is a Cultural Landscape which is rich with monuments and sites. Tuvkhun and Orkhon waterfall is the highlight of this tour.
Activities:






Itinerary
Day 1 | Ulaanbaatar
Upon your arrival, Destination Mongolia team will greet you at the airport. City sightseeing includes Gandan monastery, National Museum of Mongolian History which introduces an exciting history of Mongolia. Also we will stop by Sukhbaatar square and Zaisan Memorial. (L, D)
Day 2 | Khogno Khan
This morning we will drive to amusing Khogno Khan Mountain where you can enjoy the wild nature with observing the interesting rock formation, sand dunes, and boundless steppe in one place. Explore Ovgon monastery by trekking to the mountain and visit nomad familyfor learning about their unique culture. (B, L, D)
Day 3 | Karakorum
Today we will drive to Karakorum County and visit religious museum that was the first Buddhist monastery "Erdene Zuu" which was built in 1586. There you will get a precious impression about the monastery and its exhibits. (B, L, D)
Day 4/5 | Tuvkhun monastery
Today horse trek begins with meeting your horses and experienced horse guide. Prepare for the horse trekking to legendary Tuvkhun monastery in Khangai Mountains. Arrive in Tuvkhun in the evening of the day 5. You will enjoy the wild nature and you can feel the special energy there. (B, L, D)
Day 6 | Tuvkhun monastery
We enjoy a full day relaxation here allowing our horses rest. The monastery was built by saint Zanabazar in 1651 and located on the top of larch forested mountains. (B, L, D)
Day 7/8 | Orkhon waterfall
We will saddle our horses to continue riding to Orkhon waterfall; arrive at the magnificent waterfall that is created from volcanic eruption and magma flows. It flows down from 24 meters. We will arrive at waterfalls in the evening of day 8. (B, L, D)
Day 9 | Orkhon waterfall
Under the blue sky, galloping through green valleys with a gentle breeze will be too exciting and give a real taste of freedom. Visit nomad families to take a little rest and witness their hospitality, and ride in vast valley of Orkhon River. (B, L, D)
Day 10 | Khogno Khan
After saying goodbye to our horses and a guidewe will drive to splendid Khogno Khan Mountain which is worshipped by the local people since ancient times. We will take a rest there with climbing on the mountain and enjoying the scenery. (B, L, D)
Day 11 | Khustai National Park
This morning we will drive to Hustai National Park, enjoy hiking or optional horse riding to view the Przewalski wild horses in the wilderness. (B, L, D)
Day 12 | Ulaanbaatar
Back in Ulaanbaatar and visit Natural History Museum. Shopping in the city or take a rest. In the evening we will enjoy traditional folk concert including dance, contortion, and khuumii (throat singing). (B, L, D)
Day 13 | Departure
Your adventure will be concluded with transferring to the airport for your departure. (B)
Other Information
Price Exclude
International flights
Single supplement
Insurance
Drinks in restaurant
Supplementary services
Personal items
Tips
Price
Hotel
Price /per person/
2 pax
3-5 pax
6-9 pax
10 more pax
3 star
$0
$0
$0
$0
4 star
$0
$0
$0
$0
The Mongols and their horses
The history of the "empire of the steppes", like that of nomadic pastoralism, is indissolubly linked to horses. According to a Mongol saying, "a Mongol without a horse is like a bird without wings". Mobility was the key concept and the most important strategic doctrine of the Turco - Mongol tribes - the tactics and logistics of their armies were entirely determined by the horse. Horses were broken in through long hunts organized since the time of the Hunnu in which up to 10.000 horsemen took part. In the Mongol period, each autumn, the khan organized large hunts to help train his cavalry. The Mongol horse is small, being about height of a double pony (1.3 meters at the shoulder) and relatively light (between 300 and 350 kilos on average).