Camel ride tour in Golden Gobi Desert
Date availability | from 1 May 2017 to 31 October 2017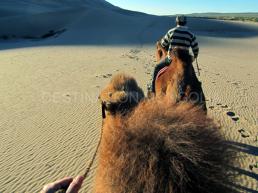 Have you ever dreamt about riding camel through the vast and famous Gobi desert of Mongolia? The trip will give you a chance to visit amazing Gurvan Saikhan National Park which includes many interesting sites such as Khongor Sand Dunes, Yol Valley and Bayanzag. You will discover the mysterious land with riding camel and get the fascinating feeling like you are in the middle of nowhere. There is a plenty of opportunities to take amazing photographs and local families who live in this wonderful area of the country.
Activities:






Itinerary
Day 1 | Ulaanbaatar City
Arrival in Ulaanbaatar, city sightseeing: Gandan Monastery, Museum of National History and the Chinggis Khaan Monument on Sukhbaatar Square. (L, D)
Day 2 | South Gobi
Flight to South Gobi. Hiking excursion in most beautiful oasis of Yol Valley. (B, L, D)
Day 3 | Flaming Cliffs
Drive to Bayanzag Flaming Cliffs and extraordinary sand dune Khongoryn Els. (B, L, D)
Day 4 | Camel Breeders
We spend the day visiting a family of nomadic camel breeders, learning about their lifestyle and daily activities. Camel riding, on one of Mongolia's two humped Bactrian Camels. (B, L, D)
Day 5/8 | Camel Trek
We begin our tour four day camel trek at the ger camp and travel first to Adag Lake near the sand dunes. From here we continue to Chono Shurguul- a grove of trees in the middle of the vast desert terrain. As we travel through the remote and unspoiled area, we will see several interesting sites including sand dunes, a hidden valley of Saxaul trees, and nomadic families. On the day 8 we conclude our trek in the Sevrei Mountain range and enjoy some free time for hiking or relaxing. (B, L, D)
Day 9 | Shivertei Valley
We continue the riding to Shivertei Valley. After the camel trek, we'll spend the day hiking and exploring the Shivertei Valley. (B, L, D)
Day 10 | Ulaanbaatar City
We fly back to Ulaanbaatar. Sightseeing: Bogd Khan's Palace Museum, Buddha Park and Zaisan Memorial. Folk concert and farewell dinner. (B, L, D)
Day 11 : Departure
Our adventure together ends with your transfer back to the airport for your departure. (B)
Other Information
Price Exclude
International flights
Single supplement
Insurance
Drinks in restaurant
Supplementary services
Personal items
Tips
Price
Hotel
Price /per person/
2 pax
3-5 pax
6-9 pax
10 more pax
3 star
$0
$0
$0
$0
4 star
$0
$0
$0
$0
Landscape
Mongolia can be divided into six zones; desert, mountain, mountain taiga, mountain forest steppe, steppe and taiga. The mountain belt of the Mongol Altai, Khangai and Khenty Mountainous regions, with their perpetual snow, glaciers, traces and signs of ancient ice covers, has been well preserved due to a constantly cold climate and strong winds. The area is inhabited by some endangered animals (such as the Argali sheep, Ibex, Snow Leopard, Rock Ptarmigan and Altai Snowcock) and plants (such as the Dwarf Siberian Pine and White Gentiana). The mountain taiga belt comprises about 5% of the Mongolian territory in the Khenty and Khovsgol mountain regions in the northernmost part of the country and experiences a relatively cold and humid climate.